Standard Parcel Prices
£6.75 Parcel Up to 20kgs

£6.75 Parcel Up to 20kgs

£21.50 Parcel Up to 20kgs

£31.50 Parcel Up to 20kgs
Additional Kilo Rate 35p
All parcels are subject to terms & conditions of carriage. Maximum size per item 1m x 1m x 1m
Parcels containing glass, liquids, consumable/perishable, drugs or hazardous will void any insurance
** Price may vary due to actual locality
European & International Consignments
Insurance Charged at 1% of value of goods being sent

Please note: certain customs restrictions apply to both road and air consignments. These can be clarified upon application.Service Options & Other Charges
Service Options Before 9.00am
£16.00
9.00am Saturday
£35.50
Add to main cost of parcel **
Please note - Service Options are restricted in certain zones.
*per £1000/unit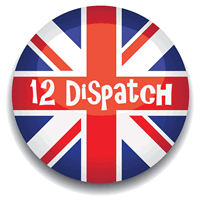 12 Dispatch Mission: To Provide a level of safe, quality service that exceeds the needs and expectations of all our customers. This will be achieved by Constant communications with our customers together with a professional representation in all aspects of business and maintaining a competitive pricing structure.
12 Dispatch is an express delivery service that provides prompt, courteous and professional service. Delivering 24 hours a day 365 days a year!
This site is continually being developed and updated in line with customer requirements, with more and more features becoming available, particularly new on-line services for Online account holders.