12 Dispatch, more than a courier company
"12Dispatch is more than just a courier, it is an extension to your business."

The 12Dispatch team are committed to providing distribution solutions to those with goods to move as well as those with vehicles to fill. Deliveries from the size of a single letter to a loaded HGV, let 12dispatch start working for you. If you need any more info or just have a question regarding 12dispatch then click here to info@12dispatch.co.uk
Thank you for visiting our site. Whether you're new or have a long-standing relationship with us, this website highlights the full range of transportation and parcel services to help you simplify your shipping process.

Parcel Delivery Courier Services from London to the world

12 Dispatch are a family business with many years experience in the market place. Our founder, Simon Ramm, is committed to providing effective solutions to the distribution needs of its customers by offering exceptional delivery performance to time definite standards. And, at the same time offering the client the cheapest options for transporting your goods around the UK.

Contract work is also under taken for both day and night and our existing customers would agree that our commitment is more than 100%.
12 Dispatch also operates a cost effective parcel collection service in the London and surrounding areas. Using various forwarders we can offer a wide range of next day timed delivery services. Our on-line tracking service and proof of delivery (POD) means that we can keep you informed at all stages of the parcel shipment. We can also arrange 3rd party collections for you and ensure their direct return to yourselves.

Should you have any specific enquiry or would like more about our company please contact us
NEW International Courier

At 12 Dispatch our international department offers fast, straightforward and convenient access 24 hours a day, every day of the year. Developed to compliment our existing customer access channels, such as Customer Services, our aim is to make doing business with us easier and give you greater control.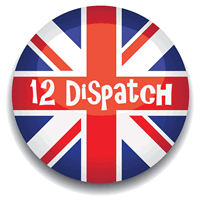 12 Dispatch Mission: To Provide a level of safe, quality service that exceeds the needs and expectations of all our customers. This will be achieved by Constant communications with our customers together with a professional representation in all aspects of business and maintaining a competitive pricing structure.
12 Dispatch is an express delivery service that provides prompt, courteous and professional service. Delivering 24 hours a day 365 days a year!
This site is continually being developed and updated in line with customer requirements, with more and more features becoming available, particularly new on-line services for Online account holders.