About 12 Dispatch
12 Dispatch can give you the peace of mind that your consignment will be handled and delivered to your complete satisfaction with the knowledge that every stage of the process will be confirmed as completed by email to your desktop.
12 Dispatch uses one of the worlds premier web booking and tracking systems which can give you the customer "real time" tracking information by e-mail at each stage of the collection / delivery process.
Although a separate business 12 Dispatch has the support and backing of Amtrak, the express parcels overnight carrier which has a nationwide network of hubs and branches.
12 Dispatch adds a personal sameday delivery service to the range of options available to you.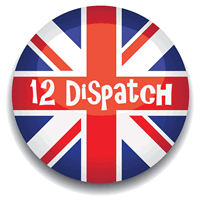 12 Dispatch Mission: To Provide a level of safe, quality service that exceeds the needs and expectations of all our customers. This will be achieved by Constant communications with our customers together with a professional representation in all aspects of business and maintaining a competitive pricing structure.
12 Dispatch is an express delivery service that provides prompt, courteous and professional service. Delivering 24 hours a day 365 days a year!
This site is continually being developed and updated in line with customer requirements, with more and more features becoming available, particularly new on-line services for Online account holders.